A pullover is a gymnastics skill which is performed on the uneven bars. It's often a compulsory skill in a gymnastics routine for lower levels. In this article we will tell you how to execute the pullover and how to best learn it.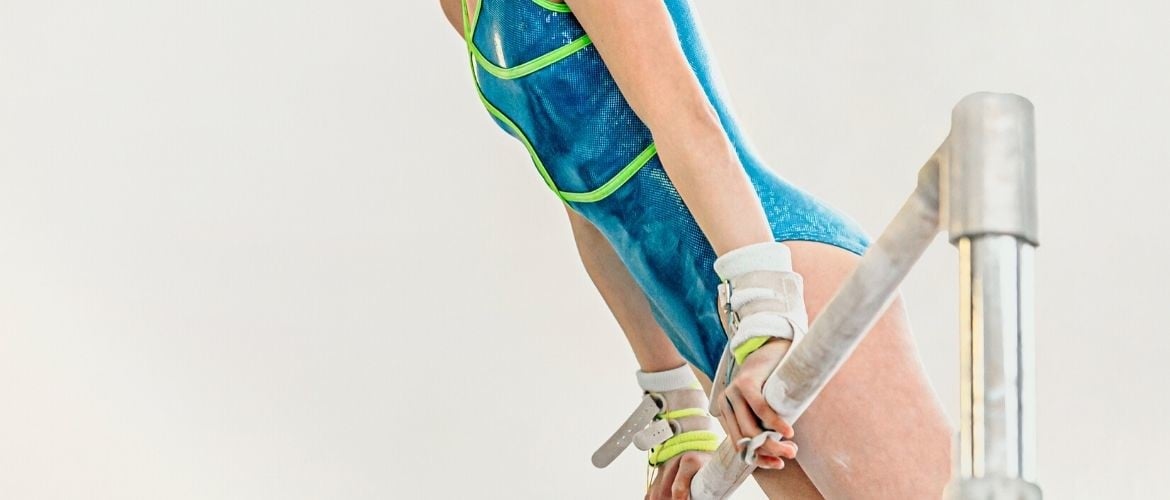 In a perfectly executed pullover, gymnasts, using strength only, pull themselves up until their chin is above the bar. They then continue to flip over the bar backwards with their hips square and their legs straight. Finally, they push themselves up onto the bar with straight arms to end in front support. In easier variations, gymnasts jump with two feet from the floor before going around the bar or they swing one leg around the bar first. In all three variations, the wrist should swift while going up. The gymnasts shouldn't change the way their hands hold the bar.
The following steps will help you build your pullover.
Step 1: coordination
Lie down on your back on an incline, for example a spring board with a small mat, and practice a backward roll. This way, you get familiar with rolling over backwards.
Step 2:  pullover using aids
When you feel comfortable rolling backwards, you can start with pullovers. To start, push your feet off a spring board or walk up against a block or stack of mats so you can focus on flipping yourself over the bar. Another option is to jump with your feet in a trampoline and then turn your body over the bar.
Step 3: with leg swing
Can you do it using aids? Try to execute the pullover with your feet on the ground and pushing yourself off with a single leg swing. Throw one leg as high as possible and push yourself off the ground with the other after which you turn your body over the bar.
Step 4: with push off
The next step is to push yourself off the ground with two feet and then pull yourself lightly up to make the pullover. The end position is the same, a high front support with straight arms and legs.
Step 5: pullover
When you've mastered all the steps, you are ready to take on the final and most difficult step: the actual pullover. You need to have enough strength to pull yourself up with your chin above the bar. Start with that movement and then turn your body over the bar again until you've reached a good front support.
Are you curious for more methodical exercises? Look in our gymnastics cinema! Do you want to discuss the pullover with other coaches? Join the coaches community on our platform.
Good luck practicing the pullover!