On social media we see one call for gymnastics coaches appearing after another. Finding gymnastics coaches is a recurring problem for the majority of gymnastics clubs in the Netherlands. How do you make sure that you find the right leadership for your club? And how do you get enthusiastic and fanatical assistants? We will show you in this blog!
Find gymnastics coaches -> target group: gymnasts
Each target group has different motives for helping the association. Gymnasts are important potential coaches for the future.
Approach to gymnasts
Associations often forget to ask young people personally to assist. Many gymnasts feel honoured when they are allowed to assist at the club. They will not easily make this known to the club. It is therefore important that the association (and coaches) take the initiative themselves.
Tips that will ensure that members will assist and teach in the future:
Have gymnasts help and assist each other in class
Explain to the gymnasts how to provide assistance
Have gymnasts explain assignments to other gymnasts
Have gymnasts give each other tips.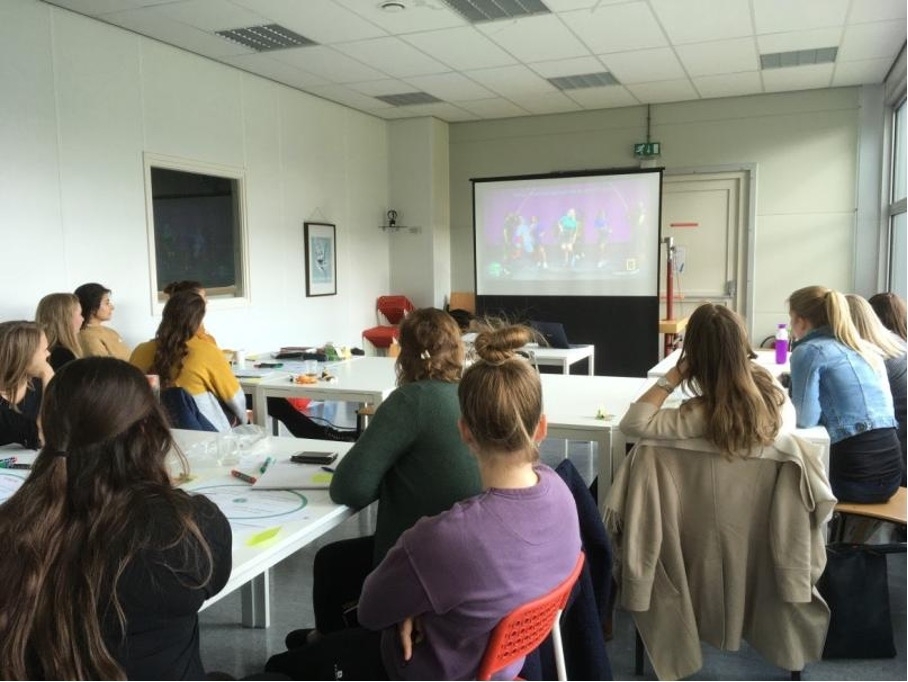 Recreation gymnasts
Many clubs have difficulty retaining 12+ members. By involving recreational members at a young age as an assistant, they feel more connected to the association which contributes to member retention. Finding gymnastics coaches in the future will be a lot easier, because you can 'fish from your own pond'.
Topp class gymnasts
Selection members (in general) have more and longer ties to the club. In addition, their technical knowledge from experience is often higher than that of most members.
Finding gymnastics coaches -> target group: parents
Parents of members are usually not seen as potential coaches, and finding gymnastics coaches among the parents of members is not very common. Nevertheless, there are plenty of practical examples where parents have been trained to become good coaches in the long run.
Approach to parents
In some lesson groups there are parents who are well able to assist with lessons. However, you usually do not know in advance which parent is suitable for this. Or which parents are interested in this. So it is important to connect with parents. Show interest in parents and try to find out what kind of background the parent has. It can also happen that a parent has given football training in the past, for example. This means they already have some experience in giving training. A great opportunity to have such a parent assist in the lessons! Use intake interviews with new members to welcome them to the club. It is a good and clear moment to get to know more about the member and the parents. And to tell more about the association.
Tips
Organise viewing lessons (or even better join in) to introduce parents to gymnastics in an accessible way.
Parents are an important target group for other voluntary tasks.
Parents are primarily attached to their child and less to the club. The stronger the connection with the club, the longer the members (and parents) will stay.
Work on member retention to reduce turnover of members and parents.
Target group: assistants
Assistants are an important target group for the internal recruitment of coaches in the association. Especially since internal recruitment often works better than external recruitment in the long run.
Approach to assistants
Try to give assistants a taste of the assistant role in a low-threshold way. Ask an assistant to come and assist in one lesson (preferably asked by the coach of the lesson himself). Then evaluate the lesson together and from there extend the offer of "the supervision trajectory". Ask if the assistant wants to come and assist for the next six weeks. Slowly increase the "responsibilities". For example, let the assistant think up and/or give a game. Depending on the age and experience of the assistant you can discuss the next step. Finding gymnastics coaches becomes a lot easier, and you already know what the qualities of your potential leaders are!
Tips
When an assistant comes to assist for the first time, he/she usually has little or no experience in assisting. Guidance of the assistants is therefore very important! In practice, this is sometimes forgotten by the coaches and the association.
Assistants are often young and can be very insecure. So give them regular compliments that will make them feel more confident.
Asking in person works best and also get them to ask for extra assistants to help.
Many (young) assistants do not know what "assisting" means or implies. "Helping" is clearer and sounds more approachable.
 Target group: coaches
Coaches are a difficult target group to recruit. Coaches usually have to be trained internally or recruited externally. So it is important to be careful with coaches. Appreciation = key!
Motives of gymnastics coaches
Coaches' motives for staying with a club are often mixed:
The association has a clear vision.
The vision of the association matches the ambitions of the coach.
The association has good working conditions or explains well why they cannot (yet) offer this.
There is enough growth possible at the club or the coach accepts the current situation.
There are few additional tasks for the coach or the coach has sufficient time to carry out the tasks. And possibly receives appreciation for the extra tasks.
There is a lot of personal attention.
There is much appreciation from the association.
 Tips
Coaches are usually triggered when they are asked about their ambitions in gymnastics. It is therefore important to be aware of coaches' ambitions.
It is also very interesting to ask a coach why he/she trains. This can really ignite a coach's passion for training.
A lot is often asked of coaches (unconsciously), make sure that you do not ask too much of them.
 Connectedness
Connecting with the association and other coaches is very important. Offer coaches enough opportunities to spar with other coaches (also from other associations).
Create a Whatsapp group (or other medium) where coaches of the association can communicate with each other.
Have coaches attend regular refresher courses.
Have coaches accompany each other on a regular basis, possibly by mentioning it in the conditions. Or let them give some lessons together.
Create a buddy system if necessary.
Plan a coach's get-together once in a while.
Let coaches join a community. For example, The Coaches Community of Better Gymnastics.
Approach tips
Personal approach
Most people know that personal approaches work best. However, there are a few useful methods you can use to increase the chances that someone will say yes to assisting the club or giving lessons.
The empowerment approach
People's brains are activated when they receive positive feedback. It can therefore be helpful to first give someone a compliment before you immediately start recruiting coaches, for example. "I see you are good with children, wouldn't you like to assist in the lesson one day?".
The "will you help us?" approach
People are often open to helping someone, if someone asks for it without it being clear what the help request is exactly. It is also a good opening to inform potential volunteers about the association.
The "reciprocity" approach
Various theories have shown that as a person, you like to give something back to someone who has done something for you or given something to you. As an association, you can use this in various ways. It can be done by doing something for a member or by giving a member/parent a little something. According to theories, the size of the gift makes little difference. So give a new member a pen (with the association's logo on it) or another welcome gift, to implement this theory from the start.
The "common" approach
People appear to have more confidence in others when there are common similarities between them. It can therefore be useful to name something in common in a conversation, such as: "my child is also in gymnastics at the club".
The "cows and calves" approach
Sometimes we can be very direct. This is also true when we are looking for volunteers and coaches. The need is often great and we quickly want to know whether someone can be of service to the club. It is effective (and very pleasant) to first have a chat and ask about the interests of the potential assistant/coach.
Creating ownership
Try to get members (and parents) to think about the association instead of just asking if someone can do a voluntary job. The moment people come up with ideas or solutions themselves, there is a bigger chance that they are willing to help out with the execution of the idea. Finding gymnastics coaches in the future might be an easier task.
Additional tips for finding assistants and gymnastics coaches
At some gymnastics associations and especially at selection groups it happens that parents are not allowed to watch or only partially watch their child's training. Associations often have good reasons for this. However, it is good to be aware of the fact that this makes it more difficult for the association to make contact with the parents of its members, read: potential volunteers/assistant parents. Especially parents of select members can be very involved and willing to help. It is therefore wise to organise regular viewing lessons/participation lessons if parents are not allowed to stay and watch during the lessons.
Can you use more tips? Check out all our tools & downloads for gym clubs. Do you want more exercises? Check out our Youtube channel or join the Gymnastic Tools Platform and get access to all 2500 methodical exercises.