When you think of swinging in gym class, you might not immediately think of kindergarten. Especially in gymnastics, both girls and boys, it is offered a lot in the lessons. Think about swinging on the horizontal bar, on the uneven bridge or on the men's bridge. Good swinging is a prerequisite for eventually mastering the kip, the swinging somersault dismount or perhaps the giant swing.
How to prepare for this already in your kindergarten class is explained in this article!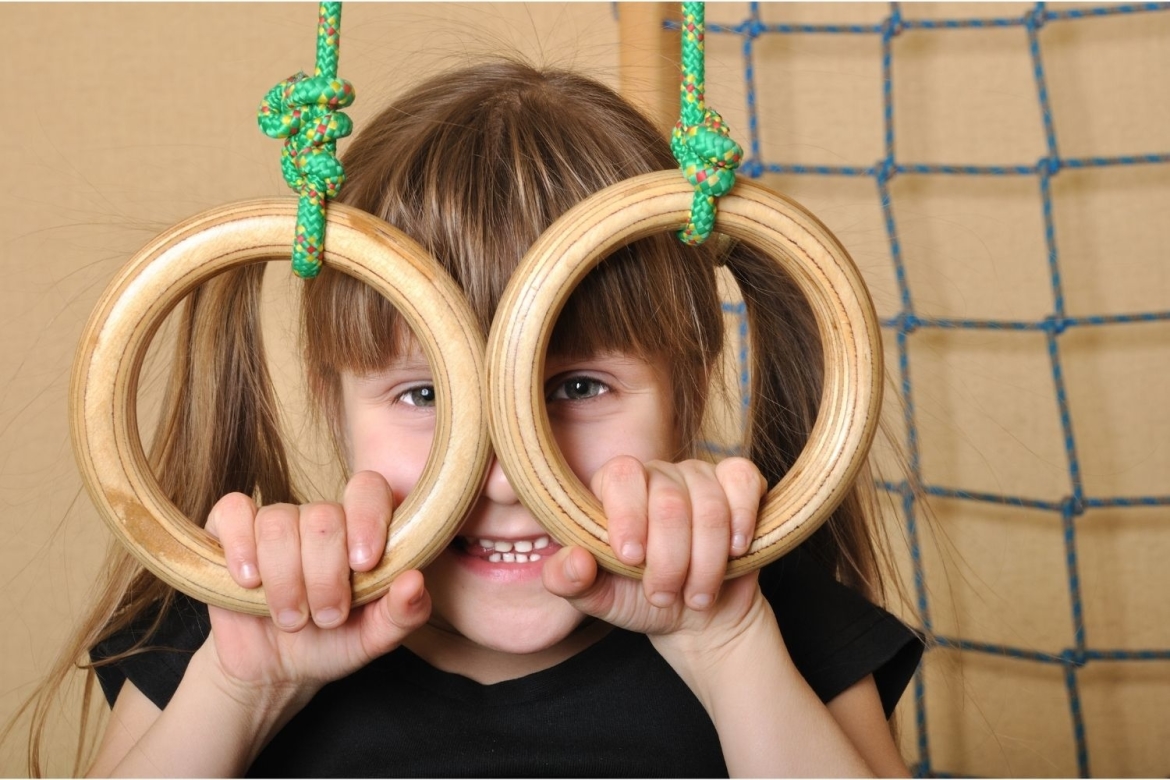 Rope swing
Not so much to learn how to swing technically, but mainly to practice and increase your grip strength. Good grip strength is very important to eventually be able to swing well on that bridge or bar.
A simple but good way of swinging the rope is to work from one bench to the other, placing the benches in a V-shape. The children who still find it difficult stand on the point where the benches are closest to each other. For more of a challenge, choose the point where the benches are furthest apart.
Swinging on rings
The rings are one of the relatively easy devices to learn how to swing technically. Because the apparatus is moving, it is easier for children to adopt the right posture. Making progress in the rings is only possible by performing the kurbet movement. The movement is made easier by the fact that the children can stand halfway down on the ground with the 'step-step' movement.
Trapeze swing
Another way to get the hang of swinging is trapeze swinging. The movement is the same as with the rings, only the children get more of a 'bridge feeling' because they have to place their hands next to each other on a stick. It is also possible to practise 'repacking' on the trapeze stick.
Horizontal bar
Of course many pre-schoolers can already make a start with swinging on the bridge or horizontal bar. Make sure they know how to 'repack', and always tell them to jump backwards. And finally: thumbs up the pole at the horizontal bar!
Exercises
Which exercises do you use in your lessons? Let us know in the comments.
On this platform you can become a Premium Member and get access to 2500 exclusive drills & exercises videos for gymnastics coaches.
You will also get access to the Toddler Gym Exercises Bundle: more than 500 creative exercises on video that you can use to teach various basic forms of movement in the gym. Even when you have little material at your disposal.
Also take a look on our YouTube Channel for more inspiration!