There are many different airtracks available today. You see more and more airtrack suppliers and air products in all shapes, sizes and colours. But what exactly can you do with them? What exercises can you do with an airtrack? And why are they an added value in gymnastics classes? We will explain it all in this article.
Which airtracks are there?
Airtrack
The airtrack is one of the most common air products in gymnastics. They are often used as a replacement for the floor.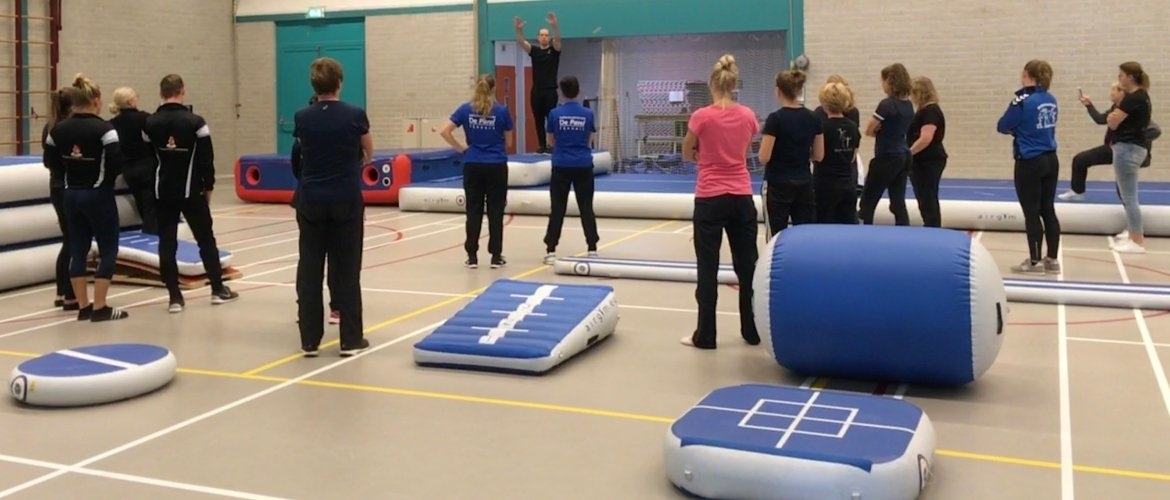 Airblocks
Air blocks are often used as elevators or catch blocks.
Airrol
The air roll is often used for practising skips, flicks or bows.
Airbeam
The airbeam can be used as an alternative to the beam.
Hotspot/blocks
There are many different small air products. Some are used to provide extra spring for jumps. Others are used to methodically vary height and distance in exercises.
Pitfall
There are also inflatable traps that can be used in gyms that do not have traps available.
Airtracks methodical deployment
Airtracks are a good way to vary the environment using methodical principles.
Examples of methodological principles:
– Wide to narrow-
Low to high-
From slant to straight-
Stable to unstable-
Using material without material
In addition, airtracks are ideal for giving more height/power with the help of the airtracks' suspension.
Injury prevention & CLUSK
Airtrack materials can contribute to injury prevention. Airtracks generally ensure a lower jump load compared to a floor or a plank. This ensures that gymnasts are less likely to become overloaded.
Some airtracks can also be used to train different muscle groups, such as ankle stability, which reduces the risk of acute injuries.
CLUSK
With the help of airtracks, you can train the 5 basic motor skills:
Coordination2
. Agility3
. Stamina4
. Speed5
. Strength
Airtrack exercises
Most gymnastics clubs have one or more airtracks in the club. In practice, they are usually only used to replace a jumping floor. However, you can do many other exercises on an airtrack during gymnastics training!
Warming up with an airtrack
An airtrack can be used very effectively as a warm-up. The advantage of practising handball on an airtrack is that you get many athletes involved at a high speed. In addition, you can quickly switch between different exercises. And you can easily make the exercises easier or more difficult.
Practising kip with an airtrack
Airtracks can be very useful for practising the kip. Especially with the many variations of air products out there. Because the Air Barrel has a round shape, it can roll, allowing you to practise the swinging movement of the kip.
You can use the air incline in 2 different ways. You can do the kip from low to high, but also from high to low. The advantage of using the incline airtrack from low to high is that you can make the folding movement easier.
The advantage of setting the incline airtrack from high to low is that you can make the stretching movement better.
With the Air Square you can practise the 2nd part of the kip by actively pushing yourself up with straight arms and by moving your shoulders forward. You can also practise the up-swing directly after you have come to your support.
Radial airtrack exercises
When practising the breaststroke, you can use air blocks to make a gate. This is an implicit method that forces gymnasts to swing their legs up high.
When you put one of the smaller air products in front of the gate, you as a coach can determine the distance of the front hip. This creates a double implicit method in which gymnasts both kick up their legs harder and make a bigger front hip. If necessary, vary between a sloping block and various heights of the blocks.
Arabian & flick airtrack exercises
The air roll is ideal for practising the flick-flick in a safe manner. There are often different sizes of air rolls. We usually recommend using a large air roll instead of a small one. When a gymnast is too small for an air roll, you can place an air block or a mat in front of the roll. This allows every gymnast to use the air roll.
You can use several air products at the same time to differentiate the exercises in your lesson.
Salto`s and screw airtrack exercises
Airtracks can provide more spring for a somersault and screw. This means you are no longer dependent on a mini trampoline or large trampoline. Because you can adjust the hardness of the airtrack, you can also decide how much extra spring the airtrack should provide.
Coordination
Airtracks are ideal for training coordination. Because you can adjust the pressure of an air module, you as a coach can determine how stable/unstable an airtrack should be to stand on.
Agility
Airtracks can also help improve the physical conditions of gymnasts. For example, an airtrack can help improve (active) flexibility.
Games on an airtrack
You can use an airtrack not only for learning gymnastics elements. If you are a bit creative, you can also invent all kinds of fun games on them. Airtracks can be used, for example, to play tag in a different way. By changing the air products, you can adjust the playing field.
Gymnastics & Fun
Airtracks can also be used in other ways. Children love to slide down an airtrack. Great fun for events such as sports days or camps. Because of the air in airtracks they can also be used in the water. They float well in the water.
Airtracks during gym class
As a PE teacher, you naturally have few materials at your disposal. Did you know that air products are an ideal addition to your gym class?
Advantages airtracks
They are very light
They are quickly cleaned up
Takes up little storage space
Pupils love them
You can use them methodically very well
Freerun exercises
Airtracks can also be used to train freerunning exercises. Below we show you a number of videos that you can perform.
Challenges
Airtracks can also be used to do fun challenges on them.
Which airtrack do you have at your club? We are very curious, let us know in the comments!
Also check our workouts on our Youtube channel. Or check out all the exercises on the gymnastics platform.