Organizational structure. A fun, instructive and active gymnastics class can be organized in different ways. In gymnastics, there are different forms to use when organizing your practices. Variation in these forms can create a fun and challenging environment for each gymnast. In this article, we from Gymnastics Tools will tell you all about these different organizational structures.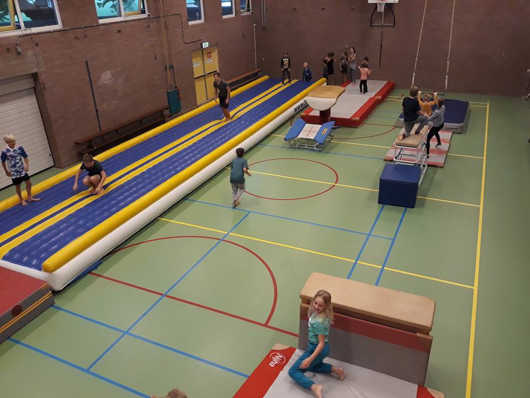 Organizational structure: circular
When using the circular form, gymnasts follow a certain route from one station to the other. They don't stay with one exercise too long, but execute each exercise (which is often shorter) once or twice and then continue immediately. This way, the gymnasts stay activated throughout and will also experience a very divers training.
Organizational structure: groups
This form is often used in gymnastics. After warm-up, the gymnasts are divided into small groups and will then execute the assignments handed out to them for that apparatus. Gymnasts are often of the same level and have the same age. This is usually done because of the different heights that are used apparatuses and because the kind of apparatus doesn't differ much between levels and ages.
Organizational structure: direct teaching
When using direct teaching, all gymnasts get their assignments and pointers together. Often, the gymnasts are divided around the gym to work but when the coach wants to explain something, the class is paused so that everyone is paying attention. An advantage of working this way, is that the coach has a good overview of all the gymnasts. This also helps him/her make sure that everyone stays busy.
Organizational structure: free practice with instruction
An example of a free practice with instruction is that after warm-up the gymnasts can choose themselves which apparatus they go to. The coach can give them the instruction that they have to go by each apparatus within a set timeframe. Another instruction could be that they have to practice at least three of four certain skills but they can choose how long they work on each of them. This organizational form is especially good for older gymnasts. They are usually able to make these decisions on their own.
Organizational structure: free practice without instruction
In a free practice without instruction, the gymnast is free to do whatever she likes to do in her practice. An organizational structure like this is often used after competition season. Organizing your class this way stimulates your gymnasts' creativity. During these practices, it's fun to try out new and challenging skills!
I dare you to try one of these organizational structures in the coming weeks. I'm very curious to hear which one you liked the best as a coach and as gymnasts. Could you use more methodical exercises? Look at our YouTube Channel. Interested in discussing topics with other coaches and gymnasts? Take a look at our platform!