Reaction lights; you see them more and more in a lot of sports. But what is it exactly and what can you do with it? And above all, the most important question for many sports fans: is it worthwhile to buy reaction lights? I myself have always been a big fan of interactive sports games. Corona made me work out more and more at home and keep motivating myself. That's why I thought it would be fun to do some research, test the reaction lights and share my experience with you. After all, there are many different reaction light variants out there!
What are reaction training lights?
Reaction training lights are training lights with special motion sensors. It is useful to know that there is a lot of difference between the various brands of reaction lights. Most of them have one sensor. Some of them register when there has been movement past the sensor. While others register touch, when you tap the lamp (vibration). And finally, you have the reaction training lamps with multiple sensor functions.
Different sensor functions of reaction lamps
At the beginning of my search for the right reaction training lamps, I initially had my eye on the BlazePod. After much hesitation, I then bought 4 BlazePod lights. I was under the impression that it had two sensors. Both touch and motion sensors. But to my disappointment, the BlazePod unfortunately only had a touch function. I also tried out the Reaction X. I found it very cool that they had 4 different sensor functions. Namely soft touch, strong touch, close distance (8-12 cm), far distance (30-40 cm). After a lot of practice I noticed that it is really nice to have different sensors. So that you can do many different types of training by varying the sensors.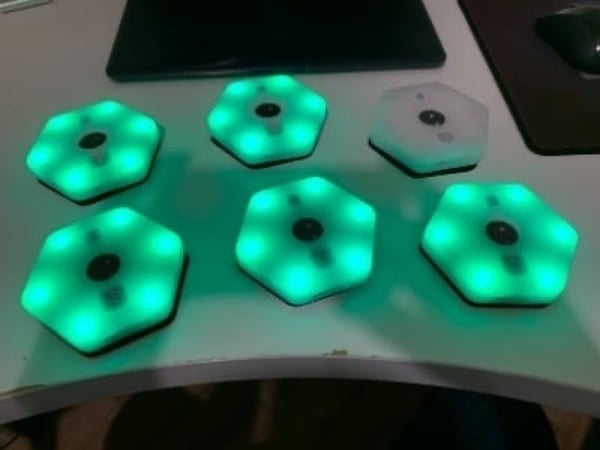 Testing Reaction X
Advantages and disadvantages of touch function
The touch function makes exercising challenging because you really have to touch the pods. However, if the touch function is the only function of the device, it can cause irritation in some training situations. I wanted to improve my balance with the help of reaction training lights. Normally, I find balance training extremely boring. So it seemed like the ideal training to do with the training pods. I put two of my friend's gymnastics beams on the floor with 4 Blazepods on top. This made training balance a lot more fun! Walk across the beams and tap lamps in the meantime. Before you know it, you've been practising for 10 minutes.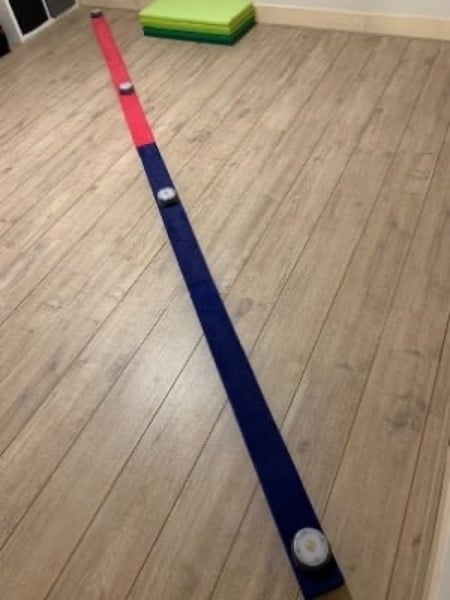 Testing the Blazepod on the gymnastics beam
Unfortunately, it was sometimes frustrating that the Blazepods registered walking over the beam, which meant that the light went off before you were even close to touching it. For this workout, I was able to set the Reaction X to alternative sensor functions "strong touch" or "motion sensor" and was able to perform the workout with ease. Later, I also did a battle against my girlfriend to see who could touch the most pods. It was fun to train together like that!
Furthermore, I noticed with the BlazePod that you sometimes had to hit the pod very hard before it noticed that it was being touched. This meant that I sometimes had to touch the pod several times before it registered. Personally, I find that very frustrating when I'm doing a challenge against a training buddy. I like a challenge and I like to win 😁
What is the advantage of using reaction lights?
Of course, the benefits will vary greatly from person to person. I myself have always been a big fan of interactive sports (games). If you let me plank for a minute, I am a lot more motivated when I am distracted by different lights that I have to tap. My motivation is even higher when I can do a challenge against a training buddy and try to score more points. I often take part in boot camp classes. I find that after a couple of weeks I've had it with the regular squats, sit-ups, push-ups and planking. I therefore think that reaction training lamps really are an added value for boot camp trainers and personal trainers.
For many athletes, the reaction lights will therefore give an enormous motivating boost. Besides being an athlete, I am also a trainer and gym teacher and I noticed that I can use the lights there as well. During training sessions, the lights not only motivate the athletes, but also give me the opportunity to observe them closely. In addition, the app can easily track all sports activities and scores and I can take the results home for evaluation.
During gym lessons, many pupils are also very enthusiastic about reaction lights. Tag games, relays, reaction speed tests and other games suddenly become much more fun and give your gym class an innovative boost. Very useful to motivate pupils who do not always feel like doing gymnastics!
Reaction training lights for different training options
If you are a little creative, you can use the reaction lamps in many different ways.
Fitness & challenges
Workouts
Speed training
Fitness training
Speed response
School gym
Remedial Teaching
Suitable for various sports
Because of the different functions and colours of lights, reaction lights can be used for many different sports.
Football
Bootcamp & personal training
Basketball
Crossfit
Martial arts
Tennis, padel and squash
Badminton
What exercises can you do with reaction lamps?
You can think of countless exercises you can do with reaction training lights. This is mainly due to the many training options that reaction training lights have.
Training options
Standard / random mode: This mode has almost every reaction light. You choose the number of pods that should light up at a time to touch.
Battle mode: The one who taps the lamps the fastest wins the round.
All at once: In this mode, all lamps turn on and you touch all of them before they turn on again.
Sequence mode: The lights go on and off in a specific order. This is useful, for example, if you want to use them to train sprints or speed.
Colour battle: One of the most fun training modes to battle against another. You both choose your own colour and try to touch as many lamps of your colour as possible.
Homebase: With homebase, you always have to go back to the "base" lamp before you can tap a new lamp.
With the Reaction X, I find it easy to set the number of the homebase in the app. Because the Blazepod doesn't have numbers on the lamps, you always have to find out which pod is the homebase because it's a different lamp every time.
Distracting mode: Instead of just trying to tap random lamps, this mode also requires you to be careful not to touch the distracting colours.
Other training options
True-false (only available with Reaction X)
When I train alone, this is one of the most fun training options for me. It is very similar to the "distracting mode", except that you have to pay attention to which colour lights up the least each time. For example, if the light is 3x blue, twice yellow and 1x red, you have to tap the red one. This ensures that you have to think twice during your training. Definitely a must!
Listening (only for Reaction X)
Because unlike the BlazePod, the Reaction X can also make sound.
Command (only with Reaction X)
The app shows you which colour or number to tap. And to make it even more challenging, you can also choose to set it to show a different colour than the one you should tap. For example, the text "red" with a yellow background. A real brainteaser!
Is there anything else you can do with it besides sports?
As well as being useful for training, these training lights can also be used in many other situations. Children love to play games with them in the living room to test their reaction speed.
And when you're not training or playing for a while, you can of course use the lamps as mood lighting. This will save you some costs for buying a smart lamp 🙂
How much do reaction training lights cost?
For those who want to get started with training, and are looking for training lights, there are many different choices. The price ranges from €250 to €3500. Pay attention to how many pods you get and if you get a carrying case and accessories.
The most expensive reaction lights are the Smart clips. For €2950, excluding VAT, you get a case with 8 Smart clips (€368 per pod).
Another expensive variant is the Fitlight. 6 fitlights will cost you around €1769 + carrying bag (€295 per pod).
I myself chose to test only the BlazePod and the Reaction X. The other options were simply too expensive for me to buy. I found the other options simply too expensive to buy for myself. Especially if you are not yet sure how often you will use it as an athlete.
For the BlazePod you pay €439 for 6 pieces (€73.16 per pod). All you get is a case. If you want to hang the BlazePods, you have to buy separate accessories. An adapter to hang the pods costs €29 per pod. So if you want to hang them all up, you'll need to spend an additional €87 on your purchase.
Personally, I find it very nice to be able to hang up reaction training lights. You can do a lot more workouts with them. But the BlazePod is a pricey middle class if you want to have everything to do all the workouts.
Reaction X
The cheapest of all variants is the Reaction X. For €247 excl. tax you get 6 basic light pods (€41,60 per pod). The pro version has more options and costs 347 (€57.80 per pod). You can find them in this webshop. The cool thing about the Reaction X is that it already has multiple suspension systems. On the back of the Reaction X there is both Velcro and a magnet. The price also includes 6 adapters to hang the pods with suction cups. With these, you can easily hang the Reaction X on any surface.
Reaction X hung up in our sports room at home, handy for jump training!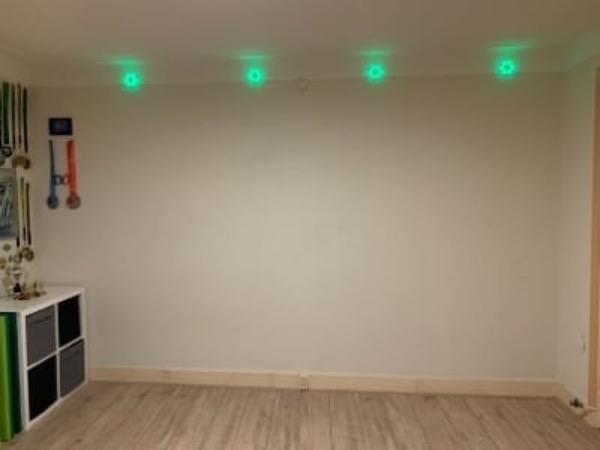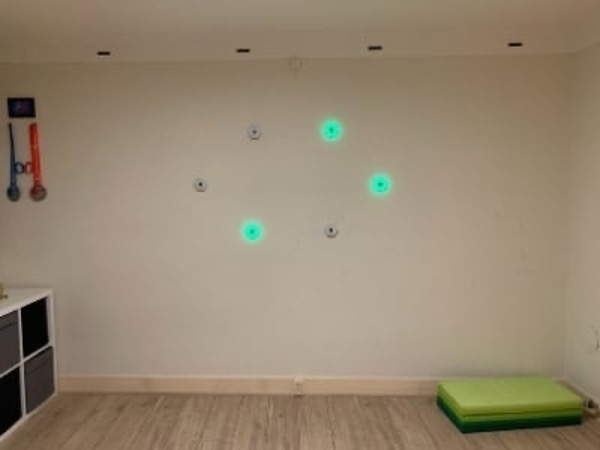 More places to hang the reaction lamps, useful for training reaction speed.
Alternative to reaction training lights
Because reaction lights are usually pricey, a lot of people are looking for alternatives or are looking for second-hand reaction lights. I would advise against buying second-hand because unfortunately you don't know what your predecessor did with it and you can't look inside the lamps. It is of course all technical electronics and you have to be an expert to see if everything is still intact. Most reaction lamps are also not completely waterproof. Therefore, you never know for sure if you will take them over from someone with possible water damage.
Because the prices between reaction training lights vary a lot, it is smart to calculate how much you will pay per training light. This way, you can compare what is the best/cheapest choice for you. See also if you need to buy accessories for the workouts you want to do. This will prevent you from spending more money than you had planned.
How do you turn on a reaction lamp?
Most reaction lamps are easy to switch on. Often you only need to turn on your bluetooth connection. Open the corresponding app and switch on the lights with one push of the button.
How can you charge them?
Reaction lights are usually very easy to charge. Almost every supplier provides USB cables for fast charging of the lights.
With which phones can they be used?
Most reaction training lights can be used with virtually all phones. In any case, most providers have an app available in the AppStore (Apple) as well as in the Google Play Stort (Android).
However, the number of lamps that can be connected at the same time often varies from one phone to another. There are only a limited number of phones that can, for example, switch on 12 lamps at the same time. If you don't have lamps yet, my advice would be to go for 6 lamps, then you are usually safe.
How long do the lamps last?
The lamps are specially made for training. You can even use it for boxing. Therefore, most reaction training lights are virtually indestructible and should last a long time.
What do you need to consider when buying?
If you want to get started with reaction lights, it is first of all smart to think about how many reaction lights you want. If you only buy one lamp, you can't do much with it. I would always choose to buy at least 6. This way you can always do enough exercises. The costs for separate training lamps are often high, but when you buy more lamps the costs for a few extra lamps are very low.
If you want to purchase additional lamps later, after your purchase, you will have to pay a lot more money. For example, you will pay almost €100 for an additional BlazePod.
I myself started with 4 lights. This gave me the opportunity to experience how much fun it was to train with reaction lights. Soon I noticed that I regretted not having chosen for 6 lights immediately.  With 6 you can not only do more types of exercises, but also challenge yourself by making it more difficult with different lights and colours.
If, for example, you are doing a recumbent support challenge with a sports partner, it is of course much more challenging if you have 6 lamps in front of you than 4 lamps. In addition, with 6 lamps, it is much easier to play / train with multiple players. After purchasing the BlazePod, I chose to immediately purchase 6 lamps for the Reaction X. I am very satisfied with that. I am very satisfied with that.
What accessories / adapters are included?
The suspension system of the reaction light providers is very variable. For example, the BlazePod cannot be hung up and can only be laid down on the ground. The BlazePod is already very expensive. To be able to hang them up, you have to buy extra accessories for about €15 extra per pod.
The great thing about the Reaction X training pods is that they have both a Velcro and magnetic function at the back. You also get different accessories to attach them to various surfaces.
Storage case
The method of storage also differs greatly from one supplier to another. You can buy reaction lights separately and often you can get a handy storage case with them. This is very nice because in this case you can take the reaction lights with you wherever you go. It would be a shame if you lose a cable or light after your training. Usually, you cannot buy these separately from the suppliers. In addition, the lamps are extra protected and therefore last longer. Finally, it also looks cool; all those lamps are in a nice sleek case.
Conclusion
As you have read, there are many different options for getting started with reaction training lights. I would definitely recommend every athlete and trainer to start working with them. It can greatly motivate you (and others) to train more and harder. In the end, I returned the Blazepods because I personally like the Reaction X better and will use it to shape my workouts. But which one suits you best will of course differ from person to person. Do you want to get started with the Reaction X like I do? Then you can find them in this webshop.
I hope this article helped you. Are you going to work with reaction lights yourself or do you have any fun exercises to share? Let me know in the comments!