A gymnastics gym can be an exciting business to run. But while you might see the thrilling side of it, your customers may not. To them, your gym is a business just like any other. When they walk in, they expect to see things that will convince them to choose you over your competition. 
They will question whether your business program possesses the professionalism, skill, and stature needed to turn their kids into gymnasts while keeping them safe. 
Therefore, when it comes to your business, first impressions matter. Having the right tools and equipment on hand will give a great first impression. 
Proper equipment
Safety equipment
Gymnastics is fun, but it is also a pretty injury-prone sport. So, safety equipment should be front and center in your gymnastics business. At the very least, you should equip your gym with mats. 
A complete matting system should include the following types of mats: 
As a gymnastics business owner, you know the dismount following a balance beam routine is a performance all on its own. The different moves executed in the air before the gymnast lands require skill and great strength, and often, the landing can be quite hard. 
Dismount mats help ensure a smooth landing by minimizing the sting on the feet or minimizing injuries in case of a fall during a dismount. 
Springboard mats are quite essential for vaulting. Their U-shape encapsulates three sides of the springboard to prevent injury if a gymnast loses their footing. The padding also gives the gymnast the added momentum necessary to push off the springboard. 
Throw mats will come in handy if you need to: 
Extend landing surface
Provide additional padding/cushioning 
The cartwheel beam mat has handprints and footprints to guide hand and foot placement during cartwheel practice. A beam stripe on the mat also guides students to execute moves in a straight line.  
Also known as wedge mats or cheese mats, these inclined mats have various applications. They can be used for vaulting, walkovers, kick overs, back extension rolls, and other activities.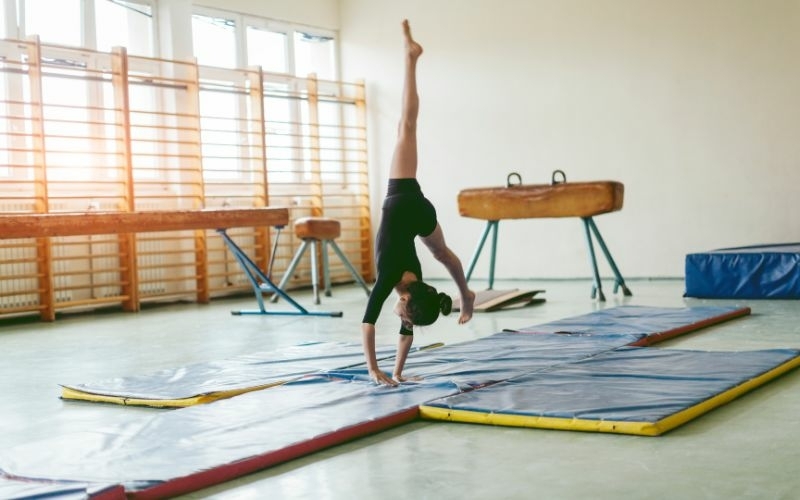 Since tumbling moves are executed on a runway, you need to line the runway with tumbling mats for seamless execution of rolls, jumps, handsprings, and somersaults. 
Panel mats are made up of sections "panels" to make them easier to store. Panel mats are thinner than other mats and should only be used when practicing basic moves such as cartwheels or rolls. 
Balance beam mats should be placed under the beam to provide cushioning in case a gymnast should slip and fall.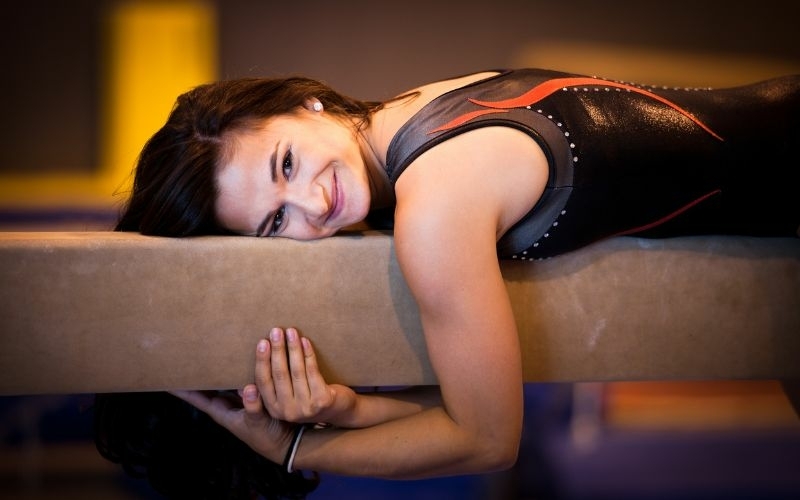 Besides mats, you should also invest in the following safety equipment: 
Flooring
Flooring is just as crucial to safety as mats. By installing foam, cork, or rubber flooring, you can make your floor safer. 
It's also okay to use vinyl or carpet, although while these two options are affordable, they aren't as durable as the other three flooring options. 
Balance beams
It goes without saying that your gym is not complete without balance beams. In fact, beams might be the one piece of equipment people look for when they come into your gym. 
Balance beams should be four inches wide, but as you'll probably be dealing with students of all skill levels, get a couple of beams in different heights. A balance beam for beginners should be lower than four feet high. 
Uneven Bars
Bars occupy a lot of space, but just like the balance beams, you need to have at least one if you want your gym to inspire confidence among potential customers. 
There are different types of bars: parallel bars, horizontal bars, and uneven bars. You can get all three types, although uneven bars should suffice for a start. 
Uneven bars are thus named because they consist of two bars placed at different levels: one at six feet and the other above eight feet. 
Management software
When it comes to running a business, keeping your records in books and ledgers will not do. 
Invest in software to handle registration, billing, and communication. This will keep your business organized and make you appear professional. 
Resources for your gymnasts
Besides equipment, mats, and software, your studio will not be complete without resources meant for personal use by the gymnasts. We recommend stocking up on tape, chalk, ice, and a first aid kit.
This is for wrapping around wrists, ankles, and knees to protect those body parts. Some gymnasts also wrap the tape around their palms to provide more grip while on the bars. 
Your gymnasts should rub chalk on their palms (and feet) for extra grip. Practically all formations on the pommel horse and bars need a gymnast to chalk before attempting any move. 
There are different types of chalk, but the best for gymnastics use is magnesium carbonate. You can buy it in its liquid, solid, or powder form. 
All three types are equally good, although the powder form can be messy.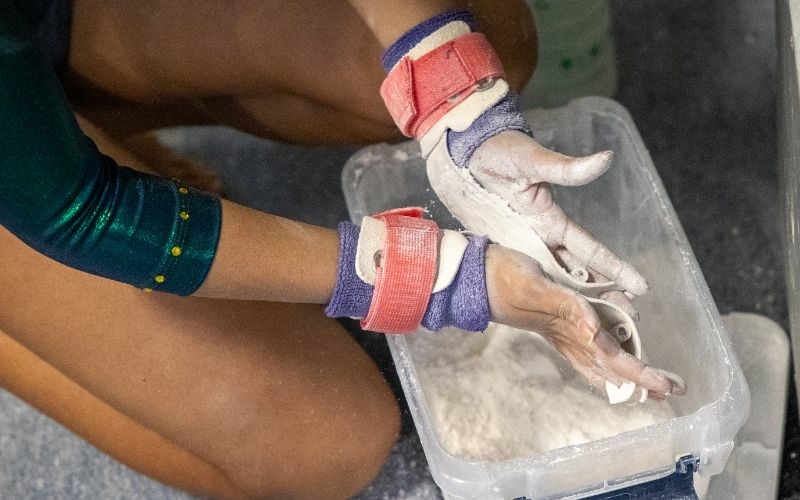 Have a first aid kit in your studio to treat minor injuries. A first aid kit will also help you manage any significant injuries while waiting for an ambulance. 
Ice packs might seem like a minor detail. But in business, it's providing the small things that will set your gymnastics business apart from your competition. 
After a training session where your students push themselves to the limit, they will need ice packs to soothe their aches and promote quick recovery. 
Ensure you replenish your stock before every class.
Resources for parents
Some parents might want to watch their kids perform. Set aside a viewing area for them, fully outfitted with comfortable chairs, benches, or bleachers. 
Some parents might want to work, catch up on their emails, or unwind by reading a book. Set aside a comfortable lounge area for them. 
Conclusion
With the above equipment and resources, your gymnastics business should be ready to convert every walk-in parent into a customer. 
Just a few tips to note while getting equipment: 
Only buy equipment from brands that observe high safety standards. Mats, chalk, and tape, for instance, should be lead-free. 
Insist on products with at least a 24-month guarantee. The last thing you want is to buy cheap equipment that will need replacing in a few months. 
Go for various colors to create a fun and vibrant feel in your gym. 
Go for modular designs, especially when it comes to mats. E.g., extendable, foldable, can be rolled up, etcetera. For instance, if you get a folding incline mat, it can also be used for spotting. 
Always have extra stock on hand. 
Author Bio:
Jackrabbit Class helps gymnastics studio owners save time and money, increase revenue and enrollment, and improve communication and retention using cloud-based class management software that offers online registration, skills tracking, a branded mobile app, flexible absence and makeup scheduling, staff and parent portals, employee payroll, automated tuition posting, ePayment processing and free support. Discover more about Jackrabbit Class!