Chinese sit-up, what is it exactly?
Looking for information on that awesome gymnastics skill in which you fly from low to high bar in gymnastics? Look no further, you came to the right place! In the article below, I will explain you what a Chinese sit-up bar is and which steps you can take as a gymnasts to have it taped.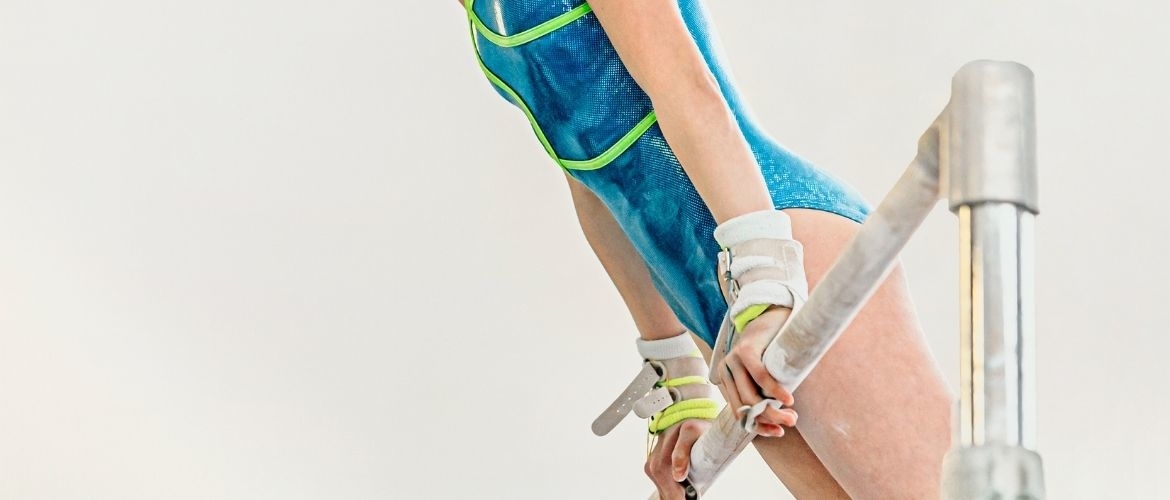 Maybe you've reached that level as a gymnast in which you have to show a flight skill in your bars routine or you would really like to do the skill. Whatever it is, let's get started!
In short, you do a Chinese sit-up ( also known as toe shoot to high bar, sole circle catch the high bar, Toe Hecht, and hiccup)  by doing half a sole circle on the low bar and then releasing your grip on the low bar before finishing the sole circle. Your hips and shoulders are strongly opened and using a Shushunova move you fly through the air and catch the high bar. The art is to keep your body in front of the vertical while catching so that you have enough swing left to continue your routine.
Below, you will find some images that show the execution of the Chinese sit-up:
Requirements for a chinese-sit-up
To learn the Chine sit-up a certain basic level is needed. You should be able to do a squat on and an underswing on the low bar. You should also be flexible enough to do a fairly wide  straddle sit.
Drills for the transfer in a chinese-sit-up
To be able to learn a Chinese sit-up, it's important to understand what the movement feels like. The exercise below can be used to make a transfer to the bars.
Improve your underswing
Are you able to do the abovementioned? Work on your underswing. Make sure your legs reach higher and higher by doing an underswing over a (soft) obstacle for example. Have a fellow gymnast hold a foam bar which is held higher after each successful attempt.
Build on for the chinese-sit-up
Then, build on your underswing by not landing on your feet anymore but land on your belly on a stack of mattresses for example. This will require you do to the movement in which you spread your legs as wide as possible and then close them again. This is called the Shushunova move.
This Shushunova move can also be practiced on the big trampoline. First while standing and then when lying on your back.
The final step
Then, it's time to practice your Chinese sit-up on bars!
Do the acquired underswing on the low bar and end on your belly on the mattresses between the low and high bar.
Now, you just need to adjust your height and distance of your underswing so that you can catch the high bar with stretched arms while keeping your body before the vertical.
More drills for learning a Chinese sit-up (playlist)
Good luck practicing. Be sure to let us know in the comments how your Chinese sit-up is going!
Do you want to learn more cool gymnastics skills? That's possible! We can tell you all about the somersault, a back handspring, a front handspring or sole circle! Watch more videos on our YouTube Channel.
Unlimited access to gymnastics tips and videos? Look at our Platform.