Every week they stand before you again, your gymnasts. A recreational athlete may only see you for an hour a week, a competitive athlete much more often. In the years that I have been teaching, I have had both. Although gymnastics is an individual sport, I liked the groups where a close bond developed as a team. But how do you create a team atmosphere in an individual sport like gymnastics?
Turning a gymnastics group into a "team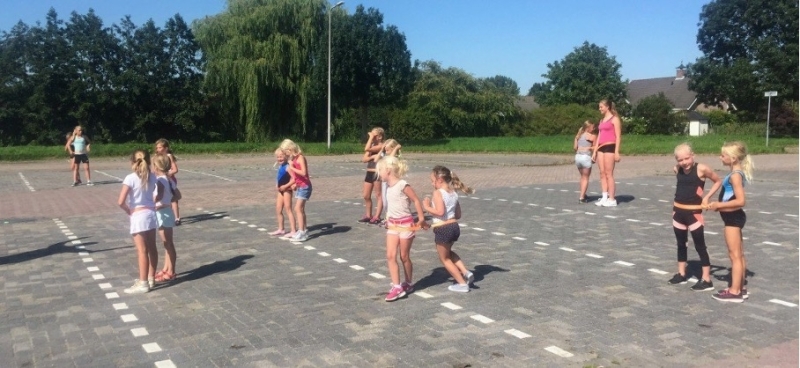 Gymnastics together
Own experience
For a long time, I did gymnastics on Friday evenings in a group that had been together since they were about twelve years old. We were a close-knit group and sometimes did something besides gymnastics. New girls were also accepted into the group. Everyone was open and we all wanted one thing above all else: gymnastics.  For me, the group was one of the reasons why I continued to do gymnastics there for so long. Even when I started doing extra gymnastics with another club, it was mainly the group and perhaps also the trainer that made me not want to stop.
I think that a close relationship among gymnasts is especially important in groups where the gymnasts are a bit older. Then the social aspect comes into play and if you don't fit in, in my experience the sport becomes less fun. For me, that was always a reason to quit a sport or a group.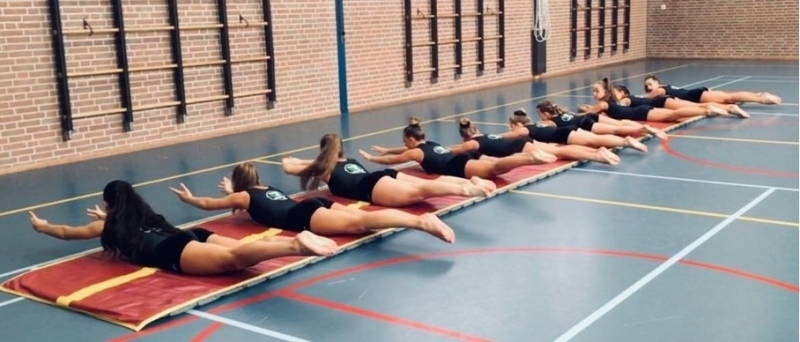 How do you create a "team"?
Although a lot depends on the members of your group, I think there are plenty of things you can do as a trainer. In any case it is important that you know who is in your group. Sometimes, by dividing the groups in a clever way during a lesson, you can already do a lot to strengthen the bond between the children in the lesson.
With the recreational groups, I occasionally tried to do something outside the lessons. Sometimes this was just a small thing like a cooperative assignment, but also something bigger like an activity with Sinterklaas and a season finale. Often during the lessons, but always something that strengthened the team feeling. In addition, I sometimes provided a small gift with a congratulations for the gymnasts.
After a few years I started to run a level group (D2/5 edivision level). The group was started from a recreational group in a certain neighbourhood and many of the girls in the original group already knew each other. I also immediately got enthusiastic parents who thought about activities for outside the lessons.
With this group, I was lucky that there was already some kind of bond between the girls. However, friendships changed over the years as girls came and went. New girls were always easily accepted into the group and were part of it in no time. It seemed as if they had always belonged. That was certainly due to the open attitude of the girls, but I also think I contributed to that because, especially when the girls were older, I let them think about how we shaped the group and the lessons.
My own contribution to the team
From the very first year, outings and activities outside the gym were important to me. The level group in particular meant much more to me than a group of girls that I taught gymnastics to. Every year, at the beginning of the year, I made a calendar in which I immediately mentioned competitions and possible extra activities. Over the years, we developed a fixed pattern of activities that we undertook each year, and this strengthened the group spirit. There was no fighting among us, just a positive atmosphere and a motivation to make each other better.
Yet there was also a pitfall in the latter group. Some girls may have been in the group too long and couldn't do the level any more. They also surpassed me in my knowledge as a trainer, but because of the bond that had been formed, I wanted to continue to teach the group for them. I was lucky that this was possible and that the group could stay the same. Still, it may have left some girls behind and that is a pity of course.
For the time being, there is no new group for me, but in the future I hope to be able to contribute again to creating a team feeling within a group of individual gymnasts. It makes training just that little bit more fun!
Can you use more tips for creating team spirit? Check out the coaching methods on the Better Gymnastics Platform and more blogs on our website.